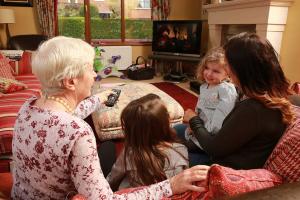 The Utility Regulator has welcomed Power NI's announcement that it will be reducing its regulated domestic electricity tariff by 4.8% from 1 July 2020.
Jenny Pyper, Chief Executive of the Utility Regulator said:
"We recognise that this is a tough time for many consumers, both domestic and business, who are worried about the impact of the Covid-19 pandemic. 
"There is so much uncertainty at this time and many consumers are concerned about the potential for rising costs. In that context this reduction will put money back into their pockets. 
"In setting the tariff at this time, we have also had one eye on the future and despite the uncertain times we are in, we are hopeful that the outcome of our review makes any increase in bills later in the year very unlikely.
"This reduction represents the largest announced decrease in electricity bills in the UK or Ireland this year and regulated electricity tariffs in NI continue to compare favourably. Even with the price cap in GB, the annual average bill for Power NI will be £571, compared to £704 in GB and £798 in RoI.
"The main driver for the decrease is falling wholesale energy costs and our scrutiny ensures that consumer bills can quickly reflect the falling cost of supplying electricity to Northern Ireland homes."
On the impact of the Covid-19 pandemic, Jenny added:
"Since we announced the review of tariffs in February, the Covid-19 pandemic has impacted significantly on electricity network costs. This had led to an unprecedented decline in demand for electricity from Northern Ireland consumers (due to the short and long term impacts on businesses). This means network costs, which are largely fixed, are collected over fewer units which increases the per unit cost. The bottom line is that the exceptional fall in demand for electricity because of the Covid-19 pandemic has pushed up network costs which has offset the positive impact of falling wholesale costs."
The tariff decrease will come into effect from 1 July 2020. Today's announcement follows the ongoing tariff review process that is carried out by Power NI and the Utility Regulator, in consultation with the Department for the Economy and the Consumer Council for Northern Ireland.
A briefing paper has also been published.
ENDS
For further information, please contact Adele Boyle on 07787 279584.
Notes:
The bill comparison with GB and RoI is based on annual consumption of 3,200 kWh and based on the average of the standard tariffs of the main suppliers in GB and RoI.