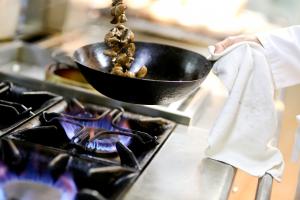 Gas bills for domestic and small business[i] consumers in the Ten Towns licence area will increase by 35.15% from 1 October 2021. This will mean that the average annual household gas bill[ii] will rise from £518 to £701 per year.
Commenting on the announcement, John French, Utility Regulator Chief Executive said:
"This announcement unfortunately reflects the unprecedented increases in international wholesale energy markets. Wholesale gas prices continue to break record levels. Currently, the cost of wholesale gas has risen by 170% since the start of April 2021.
"While we have no power to compel a company to sell energy for less than it costs, we have fully scrutinised Firmus Energy's submission. This has been carried out in consultation with the Department for the Economy and the Consumer Council, and ensures that the company's submission accurately reflects the costs they have incurred.
"To try and reduce the impact of this increase, we brought forward our review of their network tariffs which has enabled a 4.5% or a £20 reduction in Firmus Energy's original application. The final agreed increase therefore will be 35.15% or £183 per year for the average household.
"As a result of this increase, the average domestic gas bill in the Ten Towns area will rise to £701 per year. For comparison, an annual average household gas bill in GB is £625 per year and £782 per year in the Republic of Ireland.
"As the table below shows, the average annual domestic gas bill in the Ten Towns licence area fell during the Covid-19 pandemic. However, due to the increases in wholesale energy costs, the average bill has risen back to prices previously seen in 2018.
| | |
| --- | --- |
| Date | Average annual domestic gas bill in the Ten Towns |
| 1 October 2018 | £699 |
| 1 October 2019 | £638 |
| 1 October 2020 | £440 |
| 1 April 2021 | £518 |
| 1 October 2021 | £701 |
"The rise in the cost of natural gas reflects similar movements that have been seen in other heating fuels, such as home heating oil.
Date

Average annual heating oil cost

(based on 3½ fills of 500 litres)

1 October 2018

£1,023

1 October 2019

£929

1 October 2020

£474

1 April 2021

£671

Current

£761
(Source: The Consumer Council: https://www.consumercouncil.org.uk/policy-research/home-heating-oil)
"Whilst no-one has any control over the factors that affect international wholesale gas markets, I recognise that this price increase will be extremely difficult for many people. The Utility Regulator, in partnership with government and other organisations such as the Consumer Council, will continue to do everything we can to support and protect consumers, especially the most vulnerable, this winter. 
"Recently, I wrote to all energy suppliers in Northern Ireland to remind them of their regulatory obligations in regards of consumers struggling with their bills. Therefore, I would encourage anyone who is worried about how they will afford their energy bill, to contact their supplier immediately and access the help and support that is freely available."
Further information on the support available to energy customers is available at www.nidirect.gov.uk/covid-19-energy-debt-advice and within the consumer protection section of the Utility Regulator's website www.uregni.gov.uk. The Consumer Council's website has energy advice for consumers during these difficult times and also provides an independent energy price comparison tool to help consumers save money.
A number of agencies can provide free and independent advice, including Advice NI, Money and Pensions Service and Christians Against Poverty. There is also more information on support for natural gas customers from the new www.naturalgasni.com website.
A briefing paper on the tariff change has been published. 
Media contact - Adele Boyle, 07787 279584.
Additional information: 
This tariff review commenced in August 2021 and covers around 57,000 customers in the Ten Towns area.  

The average domestic credit customer will see their bills increase by around £183 per year and the average domestic bill will rise to £701 per year.

The Firmus Energy standard tariff will be 11.86% above the GB price cap.  Both have VAT rates of 5%.

The Firmus Energy standard tariff will be 10.33% lower than the Bord Gais standard gas tariff in the RoI. This includes VAT at 13.5% in RoI and 5% in NI.

Exchange rate of 0.888 rate used in calculation.

The Ten Towns and Greater Belfast areas are two separate markets, with different distribution network operators and different network use of system costs. 

The Ten Towns area refers to Firmus Energy's distribution network and includes: Derry/Londonderry, Limavady, Coleraine (including Portstewart and Bushmills), Ballymoney, Ballymena (Broughshane), Antrim (including Ballyclare and Templepatrick), Craigavon (including Portadown and Lurgan), Banbridge, Newry (Warrenpoint), Armagh (Tandragee) and more than 25 other towns and villages in the surrounding area.
[i] Business customers using less than 2,500 therms per annum.
[ii] Average domestic customer using 12,000KwH per year