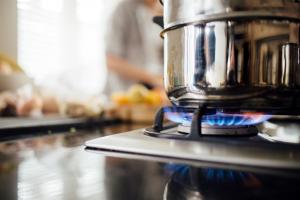 Commenting on this increase, John French, Utility Regulator Chief Executive said:                            
"In October, we received a submission from Firmus Energy to undertake an ad-hoc review of their regulated Ten Towns tariff for domestic and small business[1] consumers.
"We have now analysed and evaluated Firmus Energy's submission and consulted with the Department for the Economy and the Consumer Council for Northern Ireland. This review has unfortunately concluded that a 38.18% increase from 3 December 2021 is needed to reflect the exceptional price spikes that have been experienced in the global wholesale market over recent months.
"This will regrettably mean that the average annual household gas bill[2] in the Ten Towns licence area will increase by £267 per year.
"For historic comparison, the table below shows how Firmus Energy's regulated tariff in the Ten Towns licence area has moved since 2015.
Effective date

% increase/

decrease

Average household annual gas bill (£)

Average annual household gas bill taking account of inflation (£)

01-Dec-21  

+38.18%

£968

£968

01-Oct-21

+35.15%

£701

£701

01-Apr-21

+17.75%

£518

£531

01-Oct-20

-12.50%

£440

£461

01-Apr-20

-21.15%

£503

£546

01-Oct-19

-8.77%

£638

£678

01-Oct-18

+12.00%

£699

£758

05-Apr-18

+6.80%

£624

£688

31-Mar-17

+12.20%

£585

£670

01-Apr-16

-7.70%

£521

£616

01-Oct-15

-5.00%

£565

£672

01-Apr-15

-

£550

£658
"Unfortunately, over the last six months, we have seen unparalleled increases in the cost of wholesale energy at a global level. The rising market has been further exacerbated by the overall volatility within the market, with significant price movements occurring on a daily basis.  
"Currently, it is unclear how long these higher global prices will last, but increasingly market analysts are talking about higher wholesale prices for the next 18-36 months. However, if wholesale prices begin to reduce, our system of regulation in Northern Ireland allows us to act to make sure that reductions are fully passed onto consumers as quickly as possible.
"The reason that these global movements impact consumers here in Northern Ireland is that they make up more than half of a consumer's bill. For example, the make-up of a typical Firmus Energy gas bill is as follows: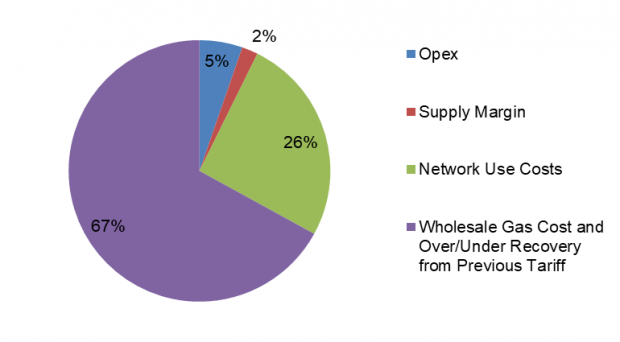 "We are extremely aware of how this further energy price increase will affect consumers in Northern Ireland. That is why we have established a working group with the Department for the Economy, Department for Communities and the Consumer Council for Northern Ireland to actively explore what practical measures can be brought forward to alleviate the burden of these higher prices on consumers, this winter.
"I have written to all energy suppliers and reminded them of their regulatory obligations to avoid customer disconnections and consider other approaches to protecting customers in debt. We are also following this up with individual meetings with all energy suppliers, to ensure they are doing all they can to support their customers.
"I would encourage anyone worried about paying for their energy bill to contact their supplier as soon as possible. There are also a number of agencies who can provide free and independent advice, including Advice NI, Money and Pensions Service and Christians Against Poverty."
A briefing paper has also been published. 
For further information, please contact adele.boyle@uregni.gov.uk
Additional information
A worldwide gas supply shortage has led to a spike in prices in recent months. There has been a reduction in the supply of gas from Russia, and a reduction in LNG cargos from countries like the USA and Qatar. The high price of carbon has also encouraged the use of gas fired power plants instead of coal around Europe, again contributing to the higher demand for gas. In addition to this, the demand for Liquefied Natural Gas (LNG) in both Asia and in Brazil (due to issues with running hydro power) has diverted its supply away from Europe.

This tariff review commenced in October 2021 and covers around 57,000 customers in the Ten Towns area.  

The average domestic credit customer will see their bills increase by around £267 per year and the average domestic bill will rise to £968 per year.

The firmus energy standard tariff will be 54.58% above the GB default tariff cap level.  Both have VAT rates of 5%.

The firmus energy standard tariff will be 6.68% higher than the Bord Gais standard gas tariff in the RoI. This includes VAT at 13.5% in RoI and 5% in NI.

Exchange rate of 0.85 used in calculation.

The Ten Towns and Greater Belfast areas are two separate markets, with different distribution network operators and different network use of system costs. 

The Ten Towns area refers to firmus energy's distribution network and includes: Derry/Londonderry, Limavady, Coleraine (including Portstewart and Bushmills), Ballymoney, Ballymena (Broughshane), Antrim (including Ballyclare and Templepatrick), Craigavon (including Portadown and Lurgan), Banbridge, Newry (Warrenpoint), Armagh (Tandragee) and more than 25 other towns and villages in the surrounding area. 
[1] Business customers using less than 73,200kWh per annum.
[2] Average domestic customer using 12,000kWh per year.