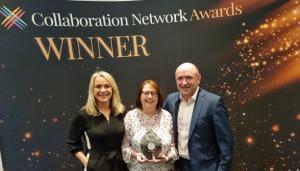 The Consumer Energy Charter, launched in November 2022 to provide extra support measures to households in Northern Ireland, has won the Collaboration Award at the UK-wide Collaboration Network's Awards 2023.
Speaking after the award ceremony, Sinéad Dynan, Head of Consumer and Business Protection said, 
"The Utility Regulator is delighted that the Consumer Energy Charter has won the Collaboration Award. This is recognition of the Charter's value and how organisations can work together to bring real benefits to consumers.
"The Consumer Energy Charter was a collaborative project, led by the Utility Regulator, involving Northern Ireland's domestic gas and electricity suppliers, Consumer Council for Northern Ireland, Department for Communities and Department for the Economy.
"On behalf of the Utility Regulator, I'd like to thank all those involved in the Consumer Energy Charter for their co-operation and support. The Collaboration Award recognises organisations that have worked together to improve situations for customers; and this is exactly what the Consumer Energy Charter set out to achieve.
"The Consumer Energy Charter was developed last year in response to the increase in the number of domestic consumers struggling to pay their energy bills. As a regulator, we were determined to do everything in our powers to help and protect consumers. Working together, the electricity and gas suppliers voluntarily supported a package of measures to make a tangible difference to consumers.
"The measures suppliers signed up to included contributing to a hardship fund for households struggling with their bills; reducing the maximum debt repayment rate amount; and ensuring customers on their care registers were not moved onto pre-payment meters, unless requested."
"We are advancing plans regarding an updated Consumer Energy Charter for 2023 and an announcement on this is expected in early November."
Media contact: Adele Boyle 07787 279584.