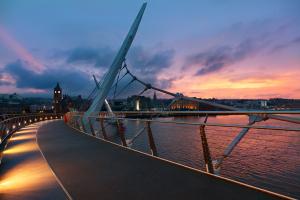 The Authority has imposed a financial penalty on Project Plug Limited in the amount of £228,541 by way of financial penalty for failing to comply with the requirement to make a payment into the NI Renewables Obligation (NIRO) buy-out fund for the obligation period ending 31 March 2018.
Having failed to submit the requisite number of Renewables Obligation Certificates in accordance with the requirements of Article 5 of the Renewables Obligation Order (Northern Ireland) 2009 (the 2009 Order), Project Plug Limited failed to make a payment to the Authority under Article 41 of the 2009 Order before 31 October 2018.
On 2 September 2019, the Authority confirmed a provisional order requiring Project Plug Limited to make the required payment.
On 19 November 2019 the Authority published a notice under Article 45 (4) of the Energy (NI) Order 2003 in respect of its proposal to impose a financial penalty on Project Plug Limited.  That notice of proposal is here.
Having given due consideration to the representations/objections received in response to that notice (if any) the Authority has decided to impose the financial penalty in the sum of £228,541.
Chief Executive of the Utility Regulator, Jenny Pyper, said:
"Following an investigation, it became clear that Click Energy had repeatedly contravened its obligations by failing to make payments into the Northern Ireland Renewable Obligation buy-out fund.
Click Energy has since admitted that it has breached its regulatory obligations and has been co-operating with us to reach a conclusion to the enforcement process.  As provided for under our financial penalties policy, Click Energy has agreed to pay a penalty amounting to £228,541 by way of settlement. The company has also now made, in full, all outstanding payments into the NIRO buy-out fund.
In agreeing this settlement it is our expectation that the penalty will not only act as an incentive for the company to comply with its regulatory obligations in the future but will also dissuade other suppliers from engaging in similar conduct."
The notice of imposition of a financial penalty (i.e. the Final Penalty Notice) is here.