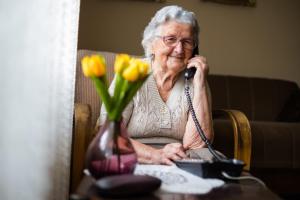 With energy debt rising and consumers actively taking steps to reduce their electricity and gas usage due to price increases, the Utility Regulator is urging consumers who are in debt or worried about getting into debt, to seek help from their energy supplier.
John French, Utility Regulator Chief Executive explains:
"We recently published survey results which showed that even before the recent price increases, consumers were already taking steps to change their behaviour in response to rising bills. 34% of consumers had reduced their electricity use in the past year and 28% had reduced their gas usage.
"This rise in energy bills has been a direct result of the record world-wide energy prices that we have seen over the last 18 months. Unfortunately, we don't have any control over world-wide energy prices, however, our role to protect and empower all energy consumers means we can ensure that help is available. Energy suppliers are required by their licence to ensure they proactively help customers who are having difficulty paying their bills.
"I would encourage any customer that is struggling to pay their energy bill, or is in debt, to contact their supplier for help. As through their regulated licence conditions, energy suppliers should support you by:
working with you to develop a manageable repayment plan, this is based on your individual ability to pay;

providing additional protection to consumers who are  of pensionable age, disabled or chronically ill; and

providing energy efficiency advice which may reduce your usage and therefore your overall bill.
"In addition, there are a number of government support schemes and independent advice agencies that can provide you with additional help. You'll find this information on NI Direct.
Sinead Campbell, Advice NI's Head of Money Debt and Quality is fully aware of the impact rising energy bills are having on consumers:
"Advice NI are beginning to see a steady increase in demand as we have already dealt with 34.5% more clients in 2021/2022 than during the same period for 2020/21. We believe this trend will continue to rise in 2022 and remain high during 2023 and 2024."
John French, Utility Regulator, continued:
"We have reminded energy suppliers of their regulatory obligations to protect customers in debt and have also had individual meetings to ensure suppliers are doing all they can to support their customers.
"Another element of our consumer protection role is through our work with the Department for Communities, Department for the Economy, and the Consumer Council. We established a working group with these organisations last year to actively explore what practical measures could be brought forward to alleviate the burden of these higher prices on consumers. I am pleased that the Northern Ireland Executive has provided significant funding to support local energy consumers."
The Utility Regulator has published a video on its website, providing debt advice for consumers on the help and support available from energy suppliers.
Details of the support available to energy customers, including the energy costs support schemes are available on NI Direct's website.
The Consumer Council's website has energy advice for consumers and also provides an independent energy price comparison tool to help consumers save money. The NI Energy advice line also offers free comprehensive advice on saving energy in the home and energy efficiency grants.
A number of agencies can provide free and independent advice, including Advice NI, Money and Pensions Service and Christians Against Poverty.
[i] The survey was carried out in October/November 2021.
Media contact: Adele Boyle on 07787 279584.
Additional information 
Non-domestic water and sewerage customers are encouraged to liaise directly with NI Water if they are experiencing any difficulties in paying their bill.

https://www.niwater.com/your-bill-and-our-charges/

The Domestic Consumer Insight Tracker 

research was carried out on October/November 2021. Further highlights of the results include:

Even before the most recent price increases, monthly spend on electricity had increased for 38% of households.

34% reported they have reduced their electricity use in the past year and 28% reduced their usage of gas.

Initial indications that a small number of customers were already reducing the amount that they put into their meter and were going without other essentials to pay for energy.

Only half of domestic consumers are aware that energy suppliers have obligations to protect them.

The majority of consumers were positive about contact with supplier with 75% saying their electricity supplier was supportive and 73% saying their gas supplier was supportive.

The full

Domestic Consumer Insight Tracker 

research report is available from our website -

Launch of the Domestic Consumer Insight Tracker report | Utility Regulator (uregni.gov.uk)

Further information on the licence obligations and Payment of Bills Code of Practice and a number of other codes of practice is available on our website -

Codes of Practice | Utility Regulator (uregni.gov.uk)

.