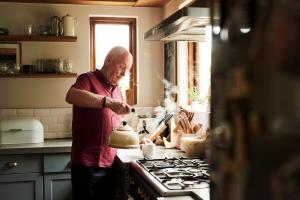 The Utility Regulator is today announcing that customers of the two domestic regulated gas suppliers in Northern Ireland, SSE Airtricity Gas Supply and Firmus Energy, will benefit from the removal of the minimum consumption charge.
The minimum consumption charge is part of a customer's bill and is included to cover the fixed costs of the gas network. Whilst this charge could be applied to all natural gas consumers, it is only those low users of gas (where their consumption is less than 1,700 KWh per year) that have had to pay this charge.  
Commenting on the announcement, Kevin Shiels, Director of Retail and Consumer Protection at the Utility Regulator, said:
"As a regulator, whose primary aim is to protect the interests of energy consumers, we recognise that these are tough times for consumers who are facing the burden of dramatically increased energy bills. We have been pro-actively exploring ways of supporting consumers during this difficult time.
"Natural gas consumers have recently raised concerns with us about the minimum consumption charge that is included in their bills, particularly where consumers' energy usage has been low or significantly reduced.
"Having engaged with the two domestic regulated gas suppliers, SSE Airtricity Gas Supply and Firmus Energy, we are pleased that both suppliers have agreed that low use gas customers will not have the minimum consumption charge included in their bills from 1 November 2022. 
"This is good news for consumers. Natural gas consumers don't need to do anything and the removal of the charge will be applied automatically from 1 November 2022. This will provide some much-needed relief to those gas consumers on their energy costs this winter and beyond.
"This announcement follows our decision announced last week, to review energy supplier direct debit arrangements to ensure that these reflect individual consumer circumstances. Along with today's announcement, this demonstrates our commitment to do everything we can to practically protect the interests of energy consumers in Northern Ireland."
Further information
The minimum consumption charge has historically been in place because irrespective of the amount of gas customers use there are fixed costs associated with being connected to the gas network. Therefore, even if a customer consumes no physical gas, there are still costs incurred on customers behalf, and this has been recouped through a minimum charge based on the cost of 419.5kWh per quarter. 

Information on the support available to energy customers is available at NI Direct 

and w

ithin the consumer protection section of our website.

The Consumer Council's website

has energy advice for consumers during these difficult times and also provides an independent

energy price comparison tool

to help consumers save money.

Media contact - 

Adele Boyle on 07787 279584.