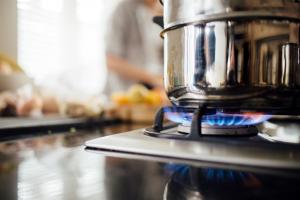 SSE Airtricity Gas Supply has today announced a 28.3% increase to its regulated tariff for domestic and small business customers in the Greater Belfast and Western gas distribution areas. This will mean that the average domestic gas bill will increase by £351 to £1,594 per year from 1 October 2022.
Commenting on the announcement, John French, Chief Executive of the Utility Regulator said:
"In August 2022, the Utility Regulator began a review of SSE Airtricity Gas Supply's regulated gas tariff. We have now completed our analysis of all of their costs and agree that a 28.3% increase is unfortunately required from 1 October to reflect the underlying wholesale gas market. This process has been undertaken in consultation with both the Department for the Economy and the Consumer Council for Northern Ireland. This will mean that the annual average SSE Airtricity domestic gas bill will rise by £351 to £1,594 per year.
"Earlier today Ofgem announced an 80% increase in their price cap. This will mean that from the 1 October 2022, the combined electricity and gas bill for the average household in Great Britain would be £3,549 a year.
"Following SSE Airtricity's announcement today, the combined regulated electricity and gas bill in Greater Belfast and the West will be £2,393[1] a year from 1 October 2022
"I fully recognise that this differential between Great Britain and Northern Ireland is cold-comfort to those who are struggling here. Unfortunately, the wholesale gas market continues to surge, and is producing prices sixteen times higher than normal historic rates. 
"We will continue to do everything in our control, to support consumers at this very difficult time. We continue to work with HM Treasury, UK Government, and Northern Ireland Government to ensure the £400 energy bill support scheme is paid out as soon as possible. 
"Next week, I am convening a roundtable of government departments, energy suppliers and the Consumer Council for Northern Ireland to look urgently at other practical steps that can be taken to support consumers this winter.
"As a regulator we are using everything in our regulatory toolbox to support consumers. I continue to remind energy suppliers of the requirement that they adopt a sympathetic approach to customers' ability to pay, and of their obligations to avoid customer disconnections and consider other approaches to protecting people in debt. I have heard the concerns from consumers and have also written to suppliers regarding their obligations to customers around direct debit billing arrangements.
"Consumers who are worried about the impact of these higher prices should always contact their electricity or gas supplier in the first instance, to discuss the options available to them. In addition, there are also a number of agencies who can provide free and independent advice to households, including Advice NI, Christians Against Poverty, and Money and Pensions Service."
ENDS
For further information, please contact Greg Irwin on 07794 965 911.
Notes to editor
[1] Based on a typical customer consuming 12,000 kWh of gas and 2,900 kWh of electricity paying by direct debit.