Supply Prices
Gas prices for domestic and I&C consumers are built up from a number of distinct elements within the gas cost chain, as shown below. As there are currently two distinct operational distribution areas in Northern Ireland (Greater Belfast and the Ten Towns) the allocation of these elements varies slightly. With the development of the West distribution area over the coming months the cost relativities will also be slightly divergent.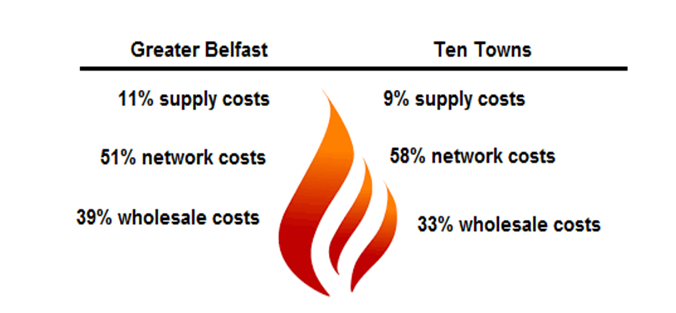 These domestic gas price cost breakdowns are based on the breakdown of the regulated tariffs for SSE Airtricity customers in Greater Belfast and for firmus energy (Supply) Limited customers in the Ten Towns. The regulated tariffs used for the breakdown became effect from April 2016.
As per the electricity section we publish updated gas pricing data bi annually within the QTRs.