Support available for electricity and gas consumers during further period of Covid-19 restrictions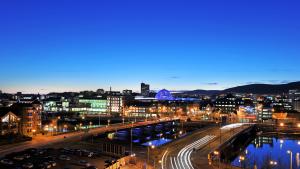 Following the further Covid-19 related restrictions introduced by the NI Executive, the Utility Regulator and The Consumer Council are reminding gas and electricity customers in Northern Ireland of the support available to them.
John French, Chief Executive of the Utility Regulator said,
"We understand that this continues to be a worrying time for households and businesses. If you are worried about being able to pay your energy bill or have any concerns about your electricity or gas supply, you should contact your supplier as soon as possible. Your supplier will be able to tell you what support they can provide and the options available to you, particularly if you are vulnerable. They can also provide further advice if you can't top up your meter or are worried you could go off supply.
"Electricity prepayment meter (PAYG) customers are able to top-up online and also over the phone with their supplier. If you have a gas prepayment meter and are unable to top up, you should contact your supplier so they can make arrangements to help you during these times.
"More broadly, we will continue to work with the energy industry, government and advice bodies to ensure that consumers have access to the right information and support." 
Michael Legg, Head of Energy Policy at The Consumer Council said,
"The Consumer Council is advising consumers who are having difficulty making payments for electricity or natural gas, to contact their supplier in the first instance to find out what support is available to them. Vulnerable consumers with a PAYG natural gas meter can ask family or friends to help them top-up and electricity meter consumers can also top-up online or by telephone."
Further information on the support available to energy customers is available at NI Direct and the within the consumer protection section of the Utility Regulator's website. The Consumer Council's website has energy advice for consumers during these difficult times and also provides an independent energy price comparison tool to help consumers save money.
A number of agencies can provide free and independent advice, including Advice NI and Money and Pensions Service. There is also more information on support for natural gas customers from the new naturalgasni.com website.
Media contact - Adele Boyle, 07787 279584.