Support available to those struggling to pay their electricity or gas bill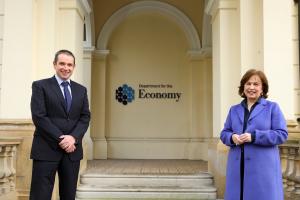 As winter approaches and the risk of a rise in household debt increases, the Utility Regulator has published information to support energy customers who may find themselves experiencing problems paying their electricity or gas bill.
John French, Chief Executive of the Utility Regulator said:
"During this Covid pandemic, our duty to protect the interests of consumers has never been more important. This is not an easy time for a lot of people and we are aware of the hardship that households and businesses are facing. Whilst there is a number of support schemes currently in place, including the furlough scheme, we are concerned about the potential for household energy debt to rise over the coming months.
"With this in mind, and our focus on protecting energy consumers, we have published information on the support available on nidirect website. Help is available for all consumers, including households and businesses, who may be worried about the impact of Covid on their ability to pay their electricity or gas bill. We encourage you to contact your electricity or gas supplier as soon as possible, who will discuss the options available to you. There are also a number of agencies who can provide free and independent advice, including Advice NI and Money and Pensions Service.
"Throughout the pandemic we have worked with suppliers who have provided assurances that their engagement with energy customers around debt is supportive and in line with their well-established codes of practice. We are working with advice giving agencies, such as Advice NI to ensure their services are fully utilised by the energy suppliers. We are also connecting with government partners and other regulators to learn from their experiences and best practices. We will continue this work to ensure we can adapt to this changing environment; working together to protect Northern Ireland's energy consumers."
Economy Minister Diane Dodds added: "My Department will continue to work with the Utility Regulator and other stakeholders to help and support energy consumers during these unprecedented times. The Covid pandemic has had a negative impact on the finances of many households and businesses. As we come into the winter months many will also see an increase in their energy and heating bills placing further strain on personal and company finances. I therefore welcome the work being done by the Utility Regulator in offering support and advice to people on how they can best manage their utility bills. I would encourage everyone to visit the nidirect website to find out more about how they can utilise the support available."
Further information on the support available to energy customers is available at nidirect and the Utility Regulator's consumer protection section.  
Notes to editor
The Utility Regulator is the independent non-ministerial government department responsible for regulating the electricity and gas industries and water and sewerage services in Northern Ireland.
Non domestic water and sewerage customers are encouraged to liaise directly with NI Water if they are experiencing any difficulties in paying their bill. https://www.niwater.com/your-bill-and-our-charges/
Media contact - please contact Adele Boyle on 07787 279584.