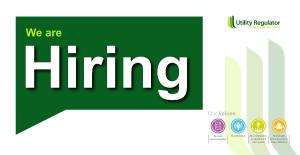 The Utility Regulator is here to protect both today and tomorrow's energy and water consumers in Northern Ireland.

Energy is at the heart of the Government's sustainability agenda and is at the sharp end of the current, unprecedented, supply/cost situation.

Now is the perfect time to join us as we navigate our way through these challenges and find the best solutions for our consumers.

We have a range of senior level jobs that will suit you if you are looking to work in a fast-paced and diverse organisation where you can make a difference to the people of Northern Ireland.
We now have the following senior roles available:
1)         Head of Consumer and Business Protection
2)         Head of Market Analysis
3)         Head of Market Operations
4)         Head of Networks
5)         Head of Security of Supply and Retail Markets
6)         Head of Water and Gas Price Controls
If you would like to find out more about these jobs, you can find all the information and details on how to apply here:
Head of Function Senior Leaders x 6 | Utility Regulator (uregni.gov.uk)

Job applications must be received by 2pm on Monday 8 May 2023.